 What to see in Praia da Luz?
The village of Luz in Lagos is one of the most popular areas for holidaymakers in the Algarve. This charming village attracts people from all over the world, especially in summer when the temperatures are mild and the seawater warms up. But why Praia da Luz in particular? What is the fascination of this place, and why do visitors like to come here again and again? Come and discover with us the charm of this small village and find your next holiday destination.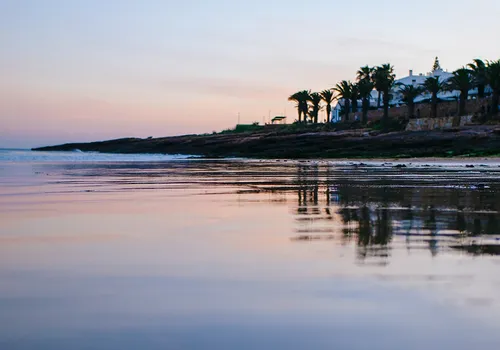 Photo by Richard De Ruijter – Unsplash
What is there to see in Praia da Luz?
We start with the most popular place in the village of Luz: the beach! Praia da Luz stretches from one end of the village to the other. On its sandy beach, about 1 km long, there are areas for water activities as well as areas with sunbeds and umbrellas. On the same beach, you can also enjoy a paradisiacal landscape.
Water temperatures in summer can easily reach 22º or 24º, inviting diving and water sports. On the coast of Praia da Luz, you can enjoy unique moments on a Stand-Up Paddle Board. This sport is suitable for the whole family and for all experience levels. On a SUP board, as this sport is called, you can paddle standing or sitting on the board with a paddle, making it an easy water sport for those who have never tried balancing on the board. If you already have experience with this sport, you can take it to the next level and do yoga in the middle of the Praia da Luz Sea.
For more information about water activities in Praia da Luz, please contact the Baía da Luz reception. We will be happy to book your experiences during your stay.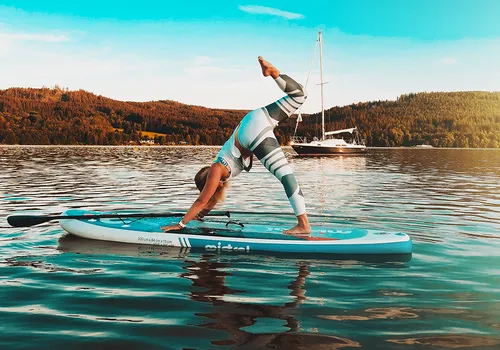 Photo by Daniel Frank – Unsplash
Where to eat in Praia da Luz?
At the top of the beach are several bars and restaurants with terraces overlooking the sea. Sit back, contemplate the beauty of the beach at the end of the day and relax with a drink. Enjoy the tranquil atmosphere and stay for dinner at one of the restaurants on the promenade, right on the beach. Continue reading this article to get to know some of the restaurants in Praia da Luz.
There are many ways to indulge yourself on holiday, and the hard part will be choosing one of the restaurants in Praia da Luz. The good news for those who have a longer stay is that you can choose a new restaurant every day and try all the national and international delicacies.
A little gastronomic journey through Italian cuisine can only take place at Alloro Ristorante. This restaurant is located just a few metres from your holiday flat, in the same area as Baía da Luz. Between pizzas, pasta and desserts, you will find the true taste of Italy, and you can also enjoy meat and fish dishes. There is a special menu for children with everything they like best.
Opening hours: from 6.30 pm to 10.30 pm, closed on Tuesdays.
Anyone who visits Portugal regularly knows that traditional Portuguese cuisine is to die for. In the Algarve, we're fortunate to have the sea as our supplier of the region's most important delicacies. We're known for fresh fish and seafood, and at Concha restaurant you can try various typical recipes such as cataplana, monkfish rice or Algarve fried squid. The family-run restaurant is located on the cobbled seafront promenade, right in front of Praia da Luz.
To book and find out about the restaurant's opening hours, call +351 282 788 584.
Right next to the church of Luz is this restaurant-bar with international delicacies combined with Portuguese recipes. Here, you can enjoy a pleasing cocktail, try craft beers or attend concerts. A lively space with innovative decoration where you can spend a pleasant evening.
Opening hours: from 6 pm to 12 am, closed on Tuesdays.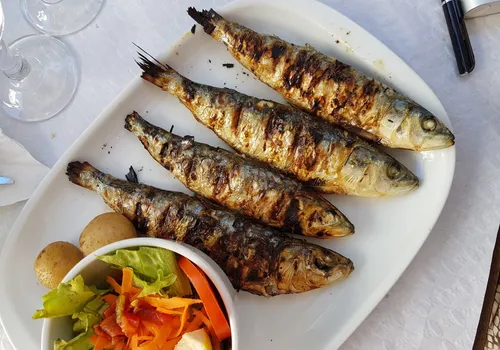 Photo by Alex Teixeira – Unsplash
What can you do in Praia da Luz?
Apart from the beauty of this small village, located 6 km from Lagos, there are a variety of activities you can experience during your stay. From hiking to relaxing in a spa, these are our suggestions for your holiday.
Hiking trail from Praia da Luz to Lagos
This trail is part of the Fishermen's Trail, a series of trails on the Costa Vicentina that run along the region's sea coast and end with the Praia da Luz - Lagos trail. Along this route, the reddish and orange colours of the rock formations stand out against the blue of the sea. Along the way, you will pass famous beaches such as Porto Mós, Ponta da Piedade or D. Ana beach. The difficulty of this hike is low and suitable for all ages. You only need to allow a constant walking time of four hours for the 11 kilometres to Lagos. Start your holiday in the best way possible. Check out the map of this walk between Praia da Luz and Lagos.
Wine Tours
Have you ever thought the Algarve has much more to offer than its climate and beaches? How about we offer you a suggestion, will take you to less touristy places where unique wine of unsurpassed quality is produced? This is our second suggestion for an activity during your holiday in Baía da Luz. Take a three-hour tour in a 4 X 4 jeep to a winery in the Algarve. Learn more about the history of Portuguese wine, especially Algarve wine, and take part in a tasting of three wines. To find out more about this activity, go to the website and ask reception how to book a visit to a winery in the Algarve.
Spa in Praia da Luz
On holiday, moments of tranquillity and well-being are the highlight of the stay. To achieve this, spas are a good choice and a little pampering never hurt anyone. Our third suggestion relates to physical, aesthetic and psychological well-being. Book your treatment at the Baía da Luz reception and enjoy Skeyndor's quality products at Health & Beauty Estrela da Luz. For direct bookings, contact us at + 351 282 771 200.
Photo by Usen Parmanov - Unsplash
What is there to see in Praia da Luz? Everything! Praia da Luz is a quiet place that, despite its proximity to the big cities, has preserved the tradition of fishing, even though it is one of the most touristy places in the Algarve. Praia da Luz offers the most beautiful natural landscapes surrounding the village, where you will find everything you need to enjoy a few days' holiday. For these and many other reasons, you should visit the village of Luz and discover the treasure of the Algarve!